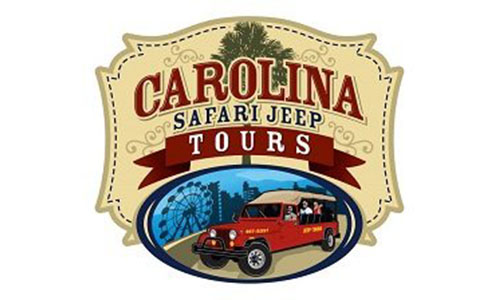 During any vacation, it's great to get off the beaten path. But knowing the best places to go often requires a bit of insider knowledge – especially when you're looking to skip the guidebook-featured spots that tend to attract the biggest crowds of tourists. (Further, to really get out there and away from the concrete jungle, the typical family sedan might struggle to survive the treacherous trip.)
Fortunately for visitors to the Grand Strand, one local business overcomes all the obstacles mentioned above. With the help of Carolina Safari Jeep Tours, adventurous vacationers can explore some of the Carolina coast's most beautiful natural destinations and a few hard-to-reach historic spots, all with the guidance of a knowledgeable local historian/naturalist and with full-service transportation provided in a rugged, extended-length, open-sided touring Jeep.
Carolina Safari offers guests of all ages 3.5-hour eco-tours – available year-round and seven days a week – that spotlight beautiful and out-of-the-way Lowcountry scenery such as oak alleys, remote woodlands, wildlife-filled marshlands, 300-year-old rice fields and even a former plantation complete with long-abandoned slave cabins. Lucky guests on these Grand Strand sightseeing adventures might catch multiple animal sightings along the way (think alligators, various bird species along the Atlantic Flyway, and more), while all of the tours offer their attendees lessons on local historical sites and shared area folklore such as tales of pirates past and spooky stories of haunted graveyards.
Making the tours especially convenient and family-friendly, guests can choose to be picked up at any number of Myrtle Beach area resorts or at other nearby sites. And serving as a testament to the excursions' appeal, Carolina Safari Jeep Tours has been featured in such publications as Southern Living and Disney Family Fun Book, showcased on the Discovery Channel, and named a "Best of Myrtle Beach" attraction and a "Top 10 Myrtle Beach" attraction.
For more information on pricing, availability and the adventures on tap at Carolina Safari Jeep Tours, visit the business's Facebook page or call 843-497-5330. And when you're ready to plan your next Grand Strand adventure and are looking for a home base, look no further than the wide-ranging accommodations and luxurious amenities found at The Strand Resort on the Myrtle Beach oceanfront. Book your Myrtle Beach vacation at Paradise Resort today – and get ready to explore the Grand Strand's wild side and relax in the lap of luxury!