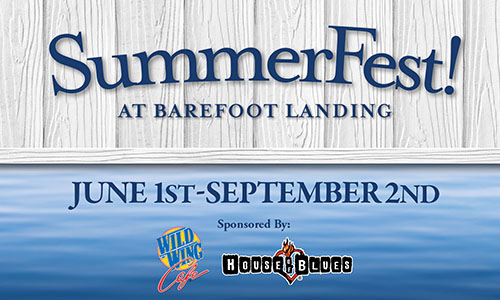 Barefoot Landing is one of the most popular destinations to check out during your Grand Strand vacation. Located along the Intracoastal Waterway in North Myrtle Beach, the complex is filled with specialty shops, popular restaurants and numerous entertainment offerings, all surrounding the 27-acre Barefoot Lake. And, with summer quickly approaching, Barefoot Landing is bringing even more fun to its lively events calendar with its summer entertainment series — SummerFest!
SummerFest! brings live entertainment to Barefoot Landing every night of the week from June 1 through September 2. Each night, visitors can find acts ranging from music to comedy and even circus-like characters scattered across the complex's outdoor concourse. With every turn, you and you family will find acts that make you laugh, dance and smile during your visit.
One of the most anticipated acts to be featured this year is Nick Pike. Four days a week, Nick will be on hand at Barefoot Landing juggling various items and telling side-splitting jokes, all while riding his unicycle. As a semifinalist on Season 5 of "America's Got Talent," Nike is sure to dazzle your family with the same A-game that dazzled the judges on TV.
Another big favorite among SummerFest! attendees is the live music lineup. Starting at 7 p.m. each evening, visitors walking through Barefoot Landing will be surrounded by the calming sounds of steel drums, saxophones and guitars, all of which kicks the already lively atmosphere up a notch. Keep an eye out as well for the Shoreline Brass Band, which makes frequent SummerFest! appearances and could pop up and perform on any given night!
If you thought this fest couldn't get any better, think again. What better way to kick off the week and shake off those Monday blues than with a great fireworks show over Barefoot Lake? Every Monday night when the sun goes down, you will be blown away by one of the most extravagant displays of fireworks in the area.
From the music to the live entertainment to the beautiful firework shows, SummerFest! at Barefoot Landing is a great way to soak up some fun on your Myrtle Beach vacation. And with its location just a short drive from your beautiful accommodations at Ocean Reef Resort, its just one more reason to plan your getaway with us.