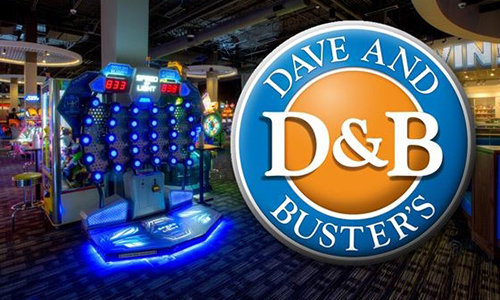 Dave and Buster's opened in June, on the site of the former Hard Rock Cafe pyramid in the Celebrity Square section of Broadway at the Beach, they offer hot food, cold drinks, great games and good times, all under one massive roof. Guests at Bay View on the Boardwalk can check out the sports and gaming fans' shrine, along with these other new venues, at Broadway at the Beach:
* Dave & Buster's: "Eat, Drink, Play and Watch Sports!" That's the motto of this national chain of hybrid arcades/sports bars, and it says it all. Belly up to the bar and throw back a few cold ones while watching the big game, or take a seat in the dining area, on the covered patio deck or in the lounge for food that goes well beyond the traditional sports-bar fare, like the Short Rib & Cheesy Mac Stack or the Bang Bang Chicken With Spicy Thai Peanut Noodles. Purchase an Eat & Play combo card for food and a wide range of amusements for all ages and interests.
The new Dave & Buster's features a seemingly endless list of high-tech video games (Raptor Captor, Dream Raiders, Dead Storm Pirates, etc.), updated versions of retro games (such as Galaga Assault, Mario Brothers and the world's largest Pac-Man machine), sports-themed games (like Olympics, Pop-A-Shot and Two-Minute Drill), jumbo-sized phone apps (Angry Birds, Candy Crush, Doodle Jump and more), movie-themed games (like Ghostbusters, Star Trek and Transformers), cartoon-themed amusements (Batman, Spiderman, SpongeBob SquarePants, etc.), carnival games (like Skee Ball, Down the Clowns and Milk Jug Toss), and more hands-on forms of competition (such as cornhole, billiards and beer pong). See, we told you they had something for everyone.
* Carolina Ale House: Another new sports-bar venue has sprung up in the Broadway at the Beach neighborhood, but this one is specifically for beer lovers. Opening in June on the former site of Planet Hollywood, Carolina Ale House is a regional chain that brings tasty suds and food to the table for Broadway visitors looking for something a little different.
The spacious bar area features more than 60 different types of beer on tap, ranging from the popular national brands to hard-to-find microbrews. Carolina Ale House has a hand-crafted food menu to match, including delicious wings, pizzas, tacos, burgers, steaks, soups, salads and the house-special Zingers chicken fingers served in a variety of sauces. Watch the big game on the big-screen TVs scattered throughout the bar area, dining room and huge patio deck.
* Paula Deen's Family Kitchen: Country cooking and Southern hospitality merge at this new family-dining concept at Broadway at the Beach. Opening in June and offered by the namesake and founding mother Paula Deen (aka the Queen of Southern Cuisine), this restaurant offers a spread of dishes brought to your table just like at home.
Paula Deen's Family Kitchen serves three meals a day with an extra-special Southern breakfast lineup. Servers load up your table with platters of Deen's most famous recipes, such as fried chicken and smothered steak with home-style veggies and other sides for lunch and dinner. Be sure to save room for dessert, and take home a sampling of Deen-themed accessories from the adjoining company store, including cookbooks, utensils and ready-to-make recipes.
Those are just a few of the new venues at Broadway at the Beach, which through Labor Day weekend also hosts its free Summer Nights at Broadway Festival, which offers live entertainment every evening during the summer months. Enjoy a fun day and night at Broadway before returning to Bay View on the Boardwalk for the ultimate Myrtle Beach vacation.